Page Menu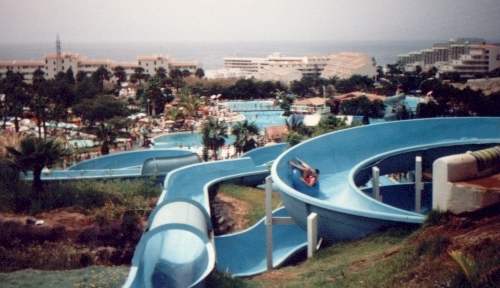 Aqualand Costa Adeje. Photo Giles
Aqualand is a very popular action packed water park,especially for families with children. The park has dolphin displays, rides and flumes varying from gentle to white knuckle,waterfalls, wild water slides children's climbing frame structures and sun bathing terraces. Changing rooms provided
There are Restaurants and various catering
Slides and flumes
In high season the queues can become lengthy. Tip Its quieter during the dolphin shows, useful on repeat visits.
Height restrictions apply on some of the faster slides.
Warning!
The salt water, action of using slides and flumes soon removes sun block cream from your body. Ensure you reapply a high factor cream on a regular basis to prevent sunburn.
Childrens Section
The Aqualand waterpark has a seperate section for children called Mini Park. Here you will finf water rides that are suitable for kids such as the Pirate Galleon and Castle.
Aqualand Dolphin Show
Many visitors reguard the Dolphin Show as there highlight to the visit to the Aqualand waterpark.
Aqualand Water slides
Food & Drinks
Because Aqualand is a full day experience yoy will find the following food & drink outlets throughout the water park.
1 Restaurant
1 Self service buffet style restaurant
4 Fast food outlets
2 Snack stands
1 Ice cream parlour
Location of Aqualand Tenerife
Aqualand is located just on the inland side of the TF 1 motorway (Autopista) near to junction 30 but access is better from junction 29.
Address
Avenida de Austria, 15 38660 COSTA ADEJE ARONA (TENERIFE)
The Aquapark is located in the Costa Adeje area of San Eugenio Alta, Near exit 29 of the TF1 motorway near Playa de las Americas
Telephone 922 71 52 66 or 922 71 42 70
Opening hours 10:00 18:00
Shuttle bus

Bus timetable & info
Free shuttle bus from Los Cristianos and Playa de las Americas.
From Los Cristianos at 9:30, 10:30 and 11:30. Picking up near various Hotels en route Playa de las Americas.
+ 5 min's. Paradise Park, San Telmo,
+15 min's. Parada Titsa Palm Beach, CC Presidente,
+20 min's. Hotel Esmeralda,
+25 min's. Hotel Isla Bonita, Hotel Guayamina Princess, Tenerife Princess
Due to every one wanting to leave at the same time , there can be very long queues for return buses. Not everybody queues in a British organised manner. Consider a Taxi
Free buses to Aqualand
From Los Cristianos & Playa de las Americas Costa Adeje
There are 3 FREE buses every morning from Los Cristianos & Playa de las Americas and 3 returning buses in the late afternoon. This is a Walk on Service
From Southern Tenerife resorts Small Charge Must Book
Golf del Sur, Tembel, Los Gigantes, Playa Paraíso, Callao Salvaje, La Caleta.
.These buses must be booked via Aqualand not our Book Aqualand, Tenerife below
From Puerto de la Cruz around 8euro
There is 1 bus on between 1 to 3 days a week, depending on the season, from Puerto de la Cruz returning bus is in the late afternoon. These buses must be booked via Aqualand not our Book Aqualand, Tenerife below