Page Menu
Playa de las Americas area menu
Nightlife
Things really come to life after dark. Night life in Playa de las Americas is vibrant all year round.
Playa de las Americas was custom built for pleasure seekers, with more than a hundred bars discos and theme pubs.
The more vibrant nightlife is centred around the following locations or venues.
Complex the famous Veronica's strip – there's so many bars, pubs and clubs the problem is choosing which ones to visit
Starco Centre, located on the other side of the main road with a large selection of bars and clubs
Both Veronicas & Starco's are popular with the younger crowd. The 2 areas are rife with bar touts
The Patch only a few hundred metres away in the direction of Los Cristianos. The Patch is generally more popular with the over 25's who want a good night out & entertainment without being over deafened with the music
You will also find good bars, pubs and restaurants in most of the shopping centres.
See also
Shopping
Safari Shopping centre
The Safari Shopping centre is an up market shopping experience with several well known designer shops or stores such as Yeyo, Bounty, Armani and Hugo Boss, Zara, Levi and Timberland.
Restaurants & Bars
There is an excellent choice of restaurants & Bars catering for all tastes.
Many with fabulous views over Playa de Las Vistas beach and the Atlantic Ocean
Beaches
Tenerife's sand is naturally black but there are a number of beaches created with imported Saharan sand including Playa de las Americas beach. The beaches are popular and watersports are brilliant. Besides the beach also visit the a waterpark, there is a free bus.
Tourist Information Offices Playa de las Americas
Playa de Troya Tourist Information Office
Playa de Troya, Avenida Rafael Puig Llivina, 19, Playa de Las Americas, Arona, Tenerife
Telephone:922 797 668 Fax:922 757 198
info americas@arona.org
Open:
Monday Friday, 09:00 21:00h.
Saturday & Sunday: 09:00 13:00h.
See location of Playa de Troya Tourist Information Office on our Playa de las Americas Map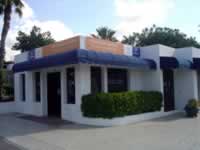 Tourist information office, Playa Troya, Playa de Las Americas.
Playa de Las Vistas Tourist Information Office
Paseo Maritimo Playa de Las Vistas, 1
Los Cristianos, Arona, Tenerife
In relation to the beach it's in a central location, near the toilets and life guard station.
Telephone:922 787 011 Fax:922 750 444
info vistas@arona.org
Open:
Monday Friday, 09:00 21:00h.
Saturday &Sunday: 09:00 15:30h.
See location of Playa de Las Vistas Tourist Information Office on our Playa de las Americas Map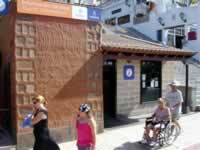 Tourist information office Playa de las Vistas
Central Tourist Information Office
City Centre Shopping Centre ( This office may have closed so only try it if it's handy)
(in front of Parque Santiago II)
Tel: 922797668