Page Menu
Tenerife Tourist Attractions Information and Guide.
Teide National Park (Parque Nacional del Teide)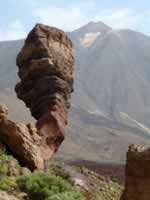 Mount Teide & Teide National Park
Mount Teide and the Teide National Park is the number 1 tourist attraction
More information and photographs of Teide National Park.
Teide Coach Tour
Masca Tenerife's prettiest village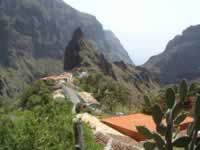 Masca, Tenerife's most photographed village
Masca a small very picturesque village in the located in the mountains north of Los Gigantes. Reckoned to be the 2nd most popular place of interest on Tenerife.
Mars ca is also famous for the exhilarating walk down the ravine to the coast for
More information and photographs of Masca
Masca Coach Tour
Masca Walk to Coast tours
You can book various trips from southern Tenerife resorts that include:
Coach from resort apartment/hotel to Masca.
Guided Walk down the fabulous photogenic Ravine to the coast. See photograph above
Boat from the beach to Los Gigantes
Return coach from Los Gigantes to your resort apartment/hotel
Good strong shoes or boots are required and at least a litre of water. The water may be provided check the tours program.
This tour is subject to weather conditions. Strong winds, sea state and/or rain can cancell the trip.
Hells Ravine (Barranco del Infierno)
The main natural attraction of Adeje is the nearby Barranco del Infierno, Hells Ravine, the deepest gorge in not only in Tenerife but the Canary Islands. The very impressive steep sides of the deep Hell's gorge Barranco del Infierno can be reached by a trail from Adeje.
Allow around 2.5 to 4 hours for a return hike of 6.5 kilometres. Strong footwear suitable for wet & slippery rocks and additional clothing advised. flip flops & sandles are not allowed.
The route is obvious because the path has been tended and a little too manicured for a true mountain walker.
There is a small 80 metre high waterfall in the upper reaches of the ravine, with amazing views to be seen, over the entire land. Note how the vegetation changes as you ascend up the Barranco del Infierno from rather barren landscape to one of lush vegetation at higher altitudes.
At least a litre of water is required because the ravine is a sun trap, and i suggest something for a snack or a bar of chocolate. Keep some in case of emergency.
The best time to do the walk is in the morning before the sun becommes too strong or later on a heavy overcast day.
The ravine may be closed during and after rainfalls because of the danger of rock falls.
It is possible that provided Hard hats have to be worn in the higher reaches. They will inform you at the pay / information desk at the entrance.
A charge is made and only 220 people are allowed into the gorge so it is advisable to book in advance & also check if the walk is open. please call one day before to book 922 782885. The phone is often very engaged. The best time to do it it's after 14:00
To Book & /or Check Weather conditions
Bad weather can cause landslides & close the Ravine for Safety
Only 300 people per day are allowed therefore Bookingin advance is almost essencial
To book visit the the official Website. While on the website check out the restrictions
Bus
You want to be as high uphill as you can get in the Town of Adeje. These vary with the routes
Routes:
Line 416: GRANADILLA > ADEJE(LOS OLIVOS)
Stop PI REDONDA on the calle Castillo
Then it's uphill between the Casa Fuerte and Canon, near the church, Iglesia de Santa Ursula . Look out for signposts
Icod de los Vinos
Picturesque town famous for it's Dragon Tree, El Drago, church, vineyards, wines, Canarian woodwork and wooden balconies
More information and photographs of Icod de los Vinos
La Gomera


Enjoy a boat trip or Ferry ride to the island of Gomera. Ferries from Los Cristianos, boat trips from most of the west Tenerife harbours.
Wales and Dolphins Boat Trips From most Harbours
Plenty of boat trips from the harbours of Tenerife take you to see the wales and dolphins often riding the boats bow wave.
Many boat trips include food and drinks, and some will provide a free bus service to the harbour.
Don't forget your camera, sun screen lotion and swim costume.
Also remember that the Canary Islands are 200 miles out into the Alantic Ocean and even on a calm day there can be a large Ocean Swell which can be very noticable on a boat with plenty of rocking.
The taking of Travel Sickness tablets could vastly improve your enjoyment on these boat trips. Remember that most of them have to be taken 2 hours before the trip read the label or get the phamacist to tell you how to take them if instuctions are in Spanish.
Loro Parque (Parrot Park)
Loro Parque is number 2 on my list of Tenerife top tourist holiday attractions.
Loro Parque is located 3 km West of Puerto de la Cruz, near Punto Brava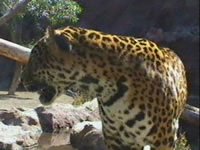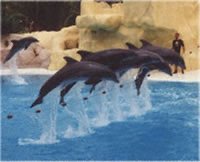 Loro Parque Photographs
Loro Parque is Tenerife's most popular wildlife centre with over a million visitors every year.
The Loro Parque photographs are by kind permission of Andy. You can see more Tenerife photographs on his site ADBH
More information Lora Park
See location of Lora park on our Tenerife Attraction Map
Aqualand Water park, Playa de las Americas, Costa Adeje
Aqualand Water park
The Aqualand Water park, located in the San Eugenio Alto area of Costa Adeje, Near exit 29 of the TF1 motorway near Playa de las Americas
Telephone 922 71 52 66 or 922 71 42 70
Opening hours 10:00 18:00 with a Free Shuttle bus service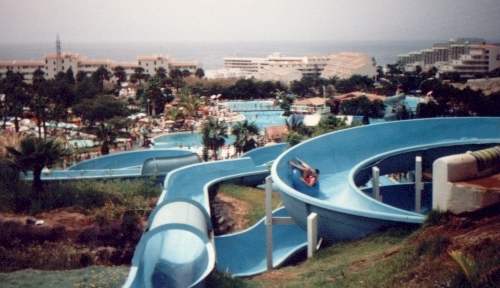 Aqualand. Photo Giles
More information Aqualand Water park
See location of Aqualand Water park on our Tenerife Attraction Map
Jungle Park, Las Aguilas Park
Playa de las Americas & Los Cristianos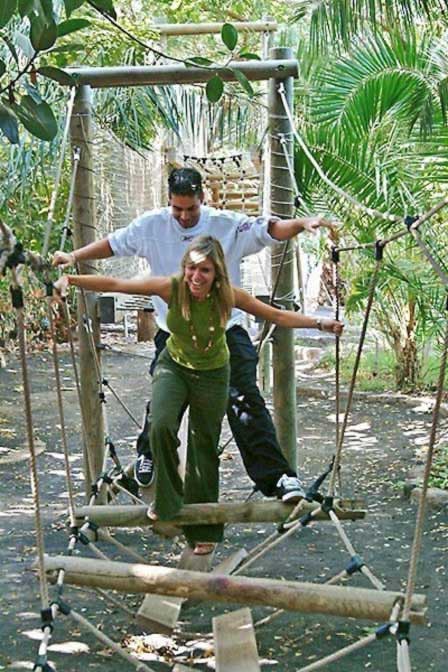 The adventourous Jungle Raid section of Jungle Park
Jungle park also known as Las Aguilas del Teide (Eagle Park) is located high in the hills 3 kilometres behind the resort of Los Cristianos
Telephone 922 75 30 01
Open all year
Free buses operating from Los Cristianos and Playa Las Americas
Las Aguilas del Teide has 75,000 sq. metres of beautifully landscaped tropical gardens you will need a full day to see all the attractions.
The park has various shows and demonstrations throughout the day.
Exotic Birds: 11 am, 2 pm, and 5 pm.
Birds of Prey: Noon and 4 pm
Open 10:00 am 5:30 pm (tickets sold until 4:30 pm) all year
More information Jungle Park / Las Aguilas Park
See location of Jungle Park / Las Aguilas Park on our Tenerife Attraction Map
Cactus and Animal Park
The Cactus and Animal Park is located next to the Autopista del Sur Salida 26 just behind Los Cristianos and next door to Amazonia
Telephone 922 79 54 24
Open 10:00 18:00
Free bus from the resort of Los Cristianos and Playa de las Americas
The Cactus and Animal Park is a botanical garden specialising in arid region cacti and plant life
The animal park, houses a variety of species from marmosets to terrapins in a more natural habitat, those visitors that animals should not be used in shows will better appreciate this park.
Amazonia
A 7000 sq metres of tropical rain forest. Exotic birds fly freely and there is s a beautiful collection of hummingbirds, a host of other game birds, parrots and reptiles.
Amazonia claims to possess the largest collection of its kind in the world and also houses a spectacular dome containing a luxuriant mini jungle full of rainforest flora and fauna.
Next door to Cactus and Animal Park
Reference
My thanks to Giles a fellow Open University Student for the use of the 2 photographs on this page.
Bananera Jardines del Atlantico
Bananera Jardines del Atlantico in the village of Buzanada near Los Cristianos
Telephone 922 72 0403 and 922 72 0360 Fax: 922 72 0522
Open daily from around 10:00
Free bus from the resorts of Los Cristianos and Playa de las Americas
Cafe and small shop selling banana related products
Bananera Jardínes del Atlantico, an interesting working banana plantation and farm, with an abundance of tropical plants and trees and an exhibition and model on traditional agriculture and the water system used on Tenerife.
Your trip includes commentary by an English speaking guide and lasts around an hour.
Ideal to visit on a cloudy day
Camel Park
Camel Park is located 3.5 km from exit 27 on the TF1 Motorway. In the opposite direction from Los Cristianos. Camel Park is situated between the villages of Chayofa and La Camella.
Telephone 922 72 10 80
Open 10.00 17.00
Free bus services from both Los Cristianos and Playa de las Americas.
Small cafe selling snacks and drinks
Camel Park is where you can enjoy something completely different, a ride on camel safari for about 1 hour around the fields that surround the farm. Afterwards enjoy an Arab tea or meal. Also see the breeding and handicraft centre at this Canarian Farm.