Page Menu
Los Cristianos Guide, Information and Photographs


Panoramic view of Los Cristianos, Tenerife
At the bottom of the photograph is the unofficial Los Cristianos nude beach, which is a pebble beach. Above that is a small rocky cove good for snorkeling. Above the cove the tower building is the Costa Mar apartments with the large but lower Arona Gran hotel. above and to the left is the Los Cristianos sandy beach that continues up to Los Cristianos harbour wall with the backdrop of Mount Chayofita, (Montana Chayofita). The large bay to the left of the hill is Playa de las Vistas, a very popular beach and where Los Cristianos merges into Playa de las Americas. The small bay beyond Playa de las Vistas virtually on the headland tip is Playa del Camison in Playa de las Americas which continues behind the mountain. The large hotel right in the centre of the photograph is the Tryp Princesa Dacil hotel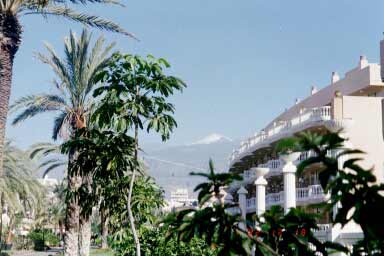 Sunbathe on the Tenerife coast and view the snow on Mount Teide on the sky line
Los Cristianos is a very popular resort in the South of Tenerife, Canary Islands , Spain. A quieter resort than it's next door bigger and more vibrant neighbour Playa de las Americas.
The resort is therefore very popular with families with young children, older couples and singles, and those not wanting a dance till dawn environment. There is a large number of brit's with there own holiday apartments in Los Cristianos such as the San Marino Complex.
Los Cristianos is situated in Southern Tenerife in a sheltered bay, and has the warmest and mildest climate all year long. It is next to its larger virtually merge together neighbour Playa de Las Americas, and unlike Playa de Las Americas, Los Cristianos is not a purpose built resort, but has developed from a small fishing village to an International tourist resort. Although the harbourstill has fishing boats you are likely to see more pleasure craft and ferries.
Because the town is based on a fishing village the centre has more charm and has made it a top tourist resort. The old town centre is the place to stock up on duty free goods and gifts, you will find plenty of shops by the port and along the sea front. The centre is surrounded by high rise apartments and hotels.
This resort is an ideal place for a family holiday, with its golden beaches and clear seas.
Many brit's own holiday apartments and let these off when not in residence. The San Marino Apartment Complex is an example of this and is approximately 15 minutes walk from the main beach and a little less from the shopping and commercial hub of this colourful town.
The old town, behind the harbour is crammed with shops, bars and restaurants. Much of the area is pedestrianised and along with the local church is the focal point of the town and an area where the locals like to sit and meet each other.
There are 2 beaches The best and biggest beaches on the island having been improved and protected by breakwaters.

Playa de los Cristianos Near the harbour and even a secluded nudist beach at the far end (south east) of the resort!
Playa de las Vistas On the other side of the harbour the wide curving beach stretching towards Playa de Las Americas

The beaches (See Los Cristianos Beach photographs ) and harbour are the centre for

for a range of water sports including scuba diving.
Viewing the sand artists work with their sculptures.
Boats and Boat trips

Sailing boats
Catamarans
Glass bottomed boats
Superb value for money whale and dolphin watching trips compared to those offered by the large tour operators. Some offer a free child place.
Trips to the island of La Gomera. Try a Gomerian meal.
Ferries to La Gomera approximately 1 hour away, and other islands

Playa de Las Americas is only a short taxi ride away or a pleasant stroll along the sea front, the 2 resorts are merged together, the separating line being a small gorge (barranco).
A wide promenade runs along the full length of the resort, continuing into the heart of Playa de las Americas. Be aware of illegal games such as "find the lady". Although it appears to be a single person with an audience it is an highly organised group, you can easily spot some of the group, they are the ones winning. It is impossible for a stranger to win. You will find plenty of bars, cafes and restaurants aimed at tourist customers bordering this esplanade.
In the pedestrianised streets of the town centre you will also find a wide range of bars, cafes and restaurants
Once a quiet fishing village now a thriving international tourist resort.
People watching is a popular pastime as you sit at a pavement cafe, bar or restaurant. Those nearer the harbour can watch the going and going of the yachts
Restaurants
Many of the restaurants overlook the harbour and wide sandy beaches.
Besides the usual Burger and Fish & Chips you can find
Canarian cuisine and
International dishes of a very high standard.
Bars
Many of the Bars overlook the harbour and wide sandy beaches.
Many have live entertainment
Others suitable for a quiet drink
Try a Tapas bar for a taste of the Canary Islands.
Warm welcome ensured
Nightlife
Nightlife in Los Cristianos is more relaxed than Playa de la Americas, the bars and restaurants are more suited to couples than those after a lively night on the town. For those wanting a more lively night Playa de la Americas is only a short taxi ride away.
Los Cristianos Photos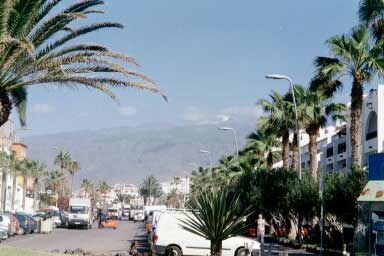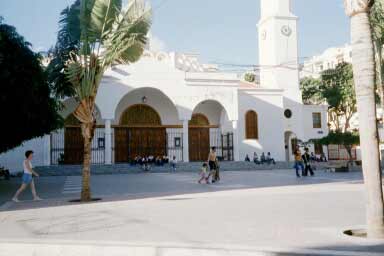 Los Cristianos Transport
Los Cristanos Bus Station
Plenty of buses to all over Tenerife
Most buses also go to Playa de las Americas
The bus station stops are all located on the eastern side of the dual Av. Juan Carlos in the area of the San Marino Apartment complex.
Handy Taxi Rank
For a Town of it's size Los Cristanos has a serious a serious lack of Bus Stops

The Bus Station is the only stop within the town centre. There is another one on the outskirts Los Cristanos on the Main Road TF-655 heading out of Los Cristanos and on the Minor road Av.de Chayofita heading into Los Cristanos.

The Apolo Shopping centre has Bars, Cafes & Restaurants if you have to wait for a bus.

Located set back on the right of the road at the top end of the Bus Station
Taxis
There are several Taxi ranks in Los Cristianos
Bus Station taxi Rank Located on Av. Juan Carlos next to the central reservation on the uphill carriageway.
Distances to/from Los Cristianos
Distance from Los Cristianos

| | |
| --- | --- |
| Distance | kilometres |
| Airport | 17 |
| Garachico | 68 |
| Playa de las Americas | 3 |
| Puerto de la Cruz | 46 |
| San Miguel | 17 |
| Santa Cruz | 59 |
Airport - Nearest to Los Cristianos
The nearest Airport is Tenerife South (TFS) also known as Reina Sofia
Transport, Airport to from Los Cristianos
The cheapest way is by Tisa Buses, Tenerifes Public Bus Services.
The disadvantage is that you then will require a Taxi to your Apartment or Hotel from the Bus Station
Regular Express bus services

Route 111 usually every 30 mins, run between Santa Cruz and Costa Adeje Bus Station via the Airport
Route 343 usually every 60-90 mins, run between Puerto de Cruz and Costa Adeje Bus Station via the Airport
Route 450 Does NOT go to the Airport, it stays on the Main road TF1, over 2 kilometres from the Airport

The best way is to book an Airport Transfer. This will take you from the Airport to your hotel or Apartment. You can book a Single or Return.
Shopping In Los Cristianos
Sunday Flea market
This open air market is the largest on the island. It's near the Arona Gran Hotel (Southern End of the town) from 09:00 14:00. A good place to pick up crafts and souvenirs, but as with all markets, use common sense and be prepared to haggle to obtain a better price.
Apolo Shopping Centre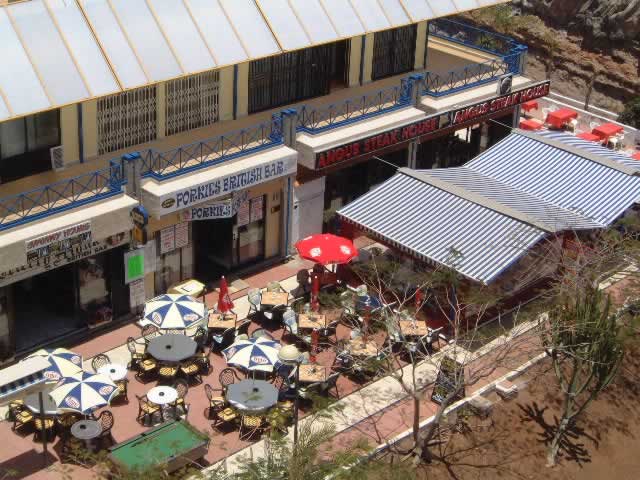 Terrace on the Southern side of the Apolo Shopping Centre
Located at the top end of the Bus Station
There are several Bars Cafes & Restaurants some of which are run by Brits
Tourist information offices Playa de los Cristianos
Tourist information office Cultural Centre
Plaza del Pescador, 1, Centro Cultural de Los Cristianos, Los Cristianos, Arona, Tenerife
Telephone:922 757 137
Fax:922 752 492
info cristianos@arona.org
Open:
Monday Friday: 09:00 15:30
Saturday: 09:00 15:30
Playa de Las Vistas Tourist Information Office
Paseo Maritimo Playa de Las Vistas, 1
Los Cristianos, Arona, Tenerife
In relation to the beach it's in a central location, near the toilets and life guard station.
Telephone:922 787 011 Fax:922 750 444
info vistas@arona.org
Open:
Monday Friday, 09:00 21:00h.
Saturday &Sunday: 09:00 15:30h.
See location of Playa de Las Vistas Tourist Information Office on our Los Cristianos Map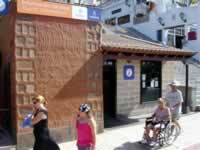 Tourist information office Playa de las Vistas
Los Cristianos Attractions
Jungle Park near Los Cristianos
Monkey Park near Los Cristianos
Jungle Park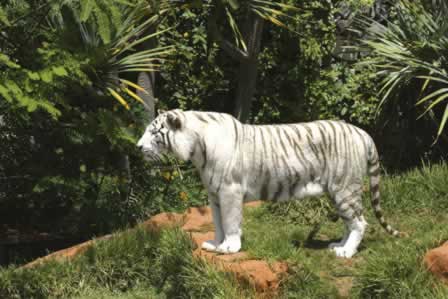 Tiger at Jungle Park
Location of Jungle Park
Located to the North East of Los Cristianos along the TF-28, just east of the small town of Chayofa
Monkey Park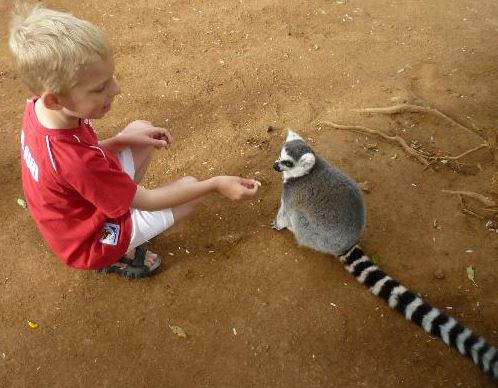 Boy Feeding a Lemar at Monkey Park
The parks rules must be followed reguards feeding of animals.
Location of Monkey Park
Located to the North East of Los Cristianos just on the northern side of the TF1 Main road