View Just Tenerife on

Facebook
Masca Tenerife, Canary Islands
Masca Description Masca Walk to the Coast
Masca Description
Masca is a very picturesgue village that is a photographers dream come true, so don't forget your camera. Located on a steep hillside on one of those secondary roads that seem to consist only of haipin bends. The bends are so tight that big coaches can not use them and small coaches have to do a bit of reversing to get round some of the bends. Most of the village is situated below the road down steep zig zag local roads and paths. Remember as you go down you have to walk back up, which takes longer. Because Masca is reguarded as Tenerife's prettiest village set in it's gorge it is well worth visiting. Masca is rated as the second tourist spot in Tenerife. Teide being the first.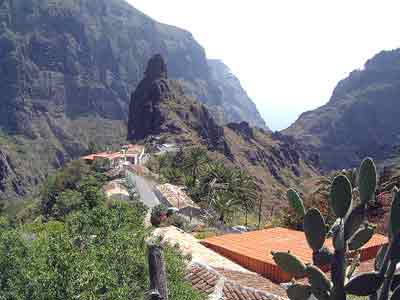 Masca and the ravine that descends to the coast 15km away.
Masca is approximatly 30 km inland on the nearest road that runs roughly parallel to the coast. Head towards the Teno peninsular from Santiago del Teide. This road has several excellent viewpoints and was only built in 1991. Before then it was a lomg walk.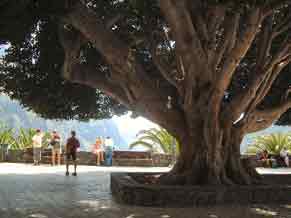 A viewing point in Masca and shadyancient tree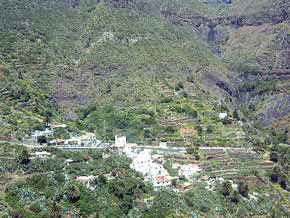 Masca from the other side of the valley
Although small, Masca caters for the tourist, with souvener shop, cafe and bar