Page Menu
Tenerife information Puerto de Santiago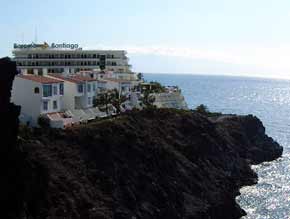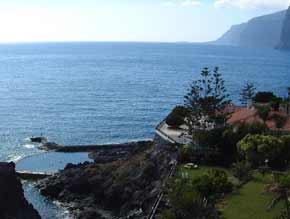 Ravines and rocky bays near Puerto de Santiago
Puerto de Santiago is on the west coast of the island retains some of its old charm as a small fishing village. It was a quiet resort with a village atmosphere but there is still lots to do. But has been development and the resort is now much larger. There is a beach just south of the resort, or head inland to the Masca Valley where you can admire the views over to La Gomera or wonder at the majestic peak of Mount Teide. Masca village is extremly picturesque and well worth a visit.
Puerto de Santiago's neighbour – Los Gigantes is one of the main harbours for boat trips and offers a wider range of bars and restaurants. Nightlife here is laid back and low key. Fresh fish is always on the menu and people enjoy after dinner drinks in relaxed surroundings. Please note: steep roads in the area may make it unsuitable for the less mobile.
Los Gigantes, Puerto de Santiago and Playa de la Arena
The 3 areas of Los Gigantes, Puerto de Santiago and Playa de la Arena almost merge into each other. All 3 resorts are built on the hillside and are seperated by small ravines. This means to walk from one to the other you have to go inland i.e. uphill then downhill on the other side of the ravine. Looking at the description for the Hotel Barcel Santiago it appears that there may be a footpath joining the resorts near to the hotel.
Some UK tour operators class the 3 villages as Los Gigantes although they are in fact 3 seperate villages that have merge together.
These resorts are more suitable for holiday makers looking for a quieter holiday. They do not have the vibrant nightlife associated to Playa de las Americas 30 km to the south east.
Puerto de Santiago Beach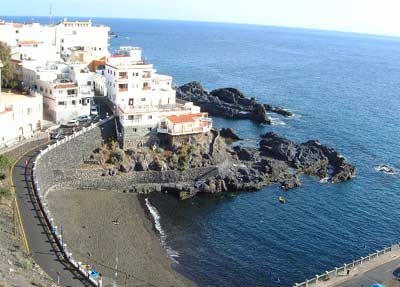 Photograph Puerto de Santiago Beach
The beach has the usual black sand of the region. The beach is smaller than those at Los Gigantes and Playa de la Arena.
Puerto de Santiago Nightlife
Puerto de Santiago's bars and restaurants are excellent, providing relaxed, low key nightlife.
Puerto de Santiago Restaurants
There are some excellent restaurants. Try the local barbecued fresh fish served with salad and 'mojo picon' a spice sauce.
Buses
The 3 resorts are on the same 473 bus route,
325 Los Gigantes Puerto de la Cruz
462 Los Gigantes Guia de Isora
Northern route Local route
473 Los Gigantes Las Galletas .
This is the main bus route along the South West Coast with 3 buses per hour. This Bus route includes stops in Puerto de Santiago and Playa de la Arena and also most of the South West resorts. useful for a trip to Los Americas or Los Cristianos with connections to other routes around the island.
477
493 Los Gigantes Guia de Isora
Southern route Local route
More information on Titsa bus services and bus routes
Reina Sofia Airport Transfer Time
Reina Sofia Airport About 1 hour 35 minutes
Scuba Diving
Ocean Blue Divers Jardines del Mar, Local b 1, Puerto de Santiago 38683, Tenerife, Canary Isles
Telephon: 922 86 2402
PADI & BSAC. All year diving .Discounts for clubs & groups