Page Menu
Tenerife resorts Fanabe and Torviscas, Canary Islands
See also on seperate pages
Fanabe Apartments and Torviscas Apartments
Fanabe Hotels and Torviscas Hotels
Fanabe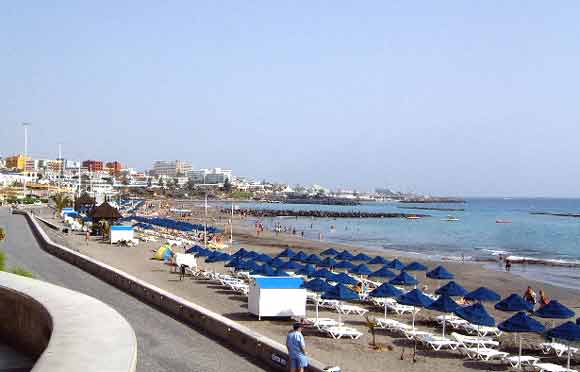 Playa de Fanabe in the foreground and Playa Torviscas after the stone breakwater. Just out of shot on the right is Puerto Colon. These 3 areas are very close to each other
Torviscas
Fanabe and Torviscas Beaches
Activity Areas
Water Sports on Fanabe Beach
Shopping
Bars & Restaurants
Beach cafe bars Playa de Fanabe beach & Playa Torviscas beach
AJ's Bar None
Playa de Fanabe, Playa Torviscas Bus Stops & Bus Routes
Bus Stop Los Brezos / Arbinque
Bus Stop Los Brezos / Arbinque Location
The bus stops are located on the road Avenida Bruselas outside the Los Brezos Apartments & Arbinque Aparthotel on the other side
Bus routes Los Brezos / Arbinque
342 Playa de las Americas El Portillo
416 Grandilla Adeje
467 Playa de las Americas  Las Galletas
Bus Stop Bruselas
Bus Stop Bruselas Location
The bus stops are located outside the Fanabe Shopping Centre on both sides of the road Avenida Bruselas
Bus Stop Mareverde / Playa Olid
Bus Stop Mareverde / Playa Olid Location
The bus stops are out side the private Mareverde Apartment Complex located on the road Avenida Ernesto Sarti, & Playa Olid Apartments located on the other side of the road
Bus routes for Bruselas & Mareverde / Playa Olid
Fanabe and Torviscas Apartments and Hotels
Fanabe Apartments and Torviscas Apartments
Fanabe Hotels and Torviscas Hotels
Fanabe Villas
4 bedroom Villa to rent in Fanabe from James Villas

Nearest Airport
The nearest airport to Playa Fanabe & Playa Torviscas is Tenerife South Airport
Airport Bus
The airport buses are Operated by Titsa
Line 111 Costa Adeje Bus Station Santa Cruz via Tenerife South Airport
Line 111 runs every 30 minutes from 06:00 to 22:30 and 4 buses run through the night roughly every 1 to 2 hours
Line 343 Costa Adeje Bus Station Puerto de Cruz via Tenerife South & Tenerife North Airports
Infrequent service with 4 buses from Playa de las America and 6 from Los Cristianos.
Airport Hotel / Apartment Transfers
The most popular mode of transport now is the Airport to / from Tourist Accommodation Transfer This service by taxis, mini coaches or coaches must be pre booked. Follow the above link for more information and prices.
Post Office
The Avenida Bruselas outside the Los Brezos Apartments is located on Avenida Bruselas outside the Los Brezos Apartments and the bus stop
Tourist Information Office
Located on the beach promenade
Playa Fañabé, Avda. Litoral, Tel. 922 750 633
Fax 922 788 955
Open Monday to Friday, 9 am 5 pm
E mail: turismo@correo.costa adeje.es