Page Menu
Costa Adeje Hotels & Aparthotels Playa de las Americas to Puerto Colon
Costa Adeje is the area from the bridge just north of Playa de La Americas Veronicas centre And Starco's centre and continues north along the coast to just south of Playa de San Juan.
The main tourist area hotels are situated on the coast spread over the areas of La Caleta Playa del Duque beach(very good for watersports) Fanabe beach Torviscas, Puerto Colon and San Eugenio
H10 Gran Tinerfe Hotel


Hotel H10 Gran Tinerfe
Book a Package Holiday with Flight, just the Hotel, or More Information with Thomson
Hotel H10 Gran Tinerfe Description
The contemporry styled fully air conditioned H10 Gran Tinerfe Hotel is in a superb position. Thompson list this hotel in there adult exclusive Thomson Couples range.
Address Av Avda. Rafael Puig de Lluvina, 13
38660 Costa Adeje
Set in peaceful, spacious grounds
3 Swimming pools
3 bars
Regular Entertainment
Range of activities, excellent facilities & fine food.
Hotel h10 Gran Tinerfe Location
This hotel is ideally placed to make the most of this active resort.
Next to Playa del Bobo Beach the beach
Next to shops, bars & restaurants
400m to the resort centre
See Location H10 Gran Tinerfe of Hotel on our Costa Adeje Hotels Map
Iberostar Bouganville Playa Hotel 4 Star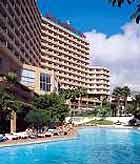 Iberostar Hotel Bouganville Playa

Iberostar Bouganville Playa Description
The Iberostar Hotel Bouganville Playa suits those who want variety. Many guests tend to be families with children aged 12 and under. Although the hotel and its grounds are suitable for the less mobile, the surrounding area and steps to the beach are unsuitable.
With two pools, lush gardens and a dark volcanic sandy beach close by, this hotel offers rest, relaxation and a fantastic selection of sports and activities.
Iberostar Hotel Bouganville Playa Location
Address C/ Eugenio Dominguez, 23 Urb. San Eugenio
38660 Costa Adeje
On a raised seafront position in Costa Adeje
Close to many restaurants
250m from Playa del Bobo the nearest beach (down some steps)
See Location of Iberostar Hotel Bouganville Playa on our Costa Adeje Hotels Map
Iberostar las Dalias Hotel

Hotel Las Dalias
More Information or Book Holiday, Flight & if required Car Hire with Jet2Holidays
Hotel Las Dalias Description
The Hotel Las Dalias is ideally situated so you can easily stroll to the town centre or just relax around the comfortable pool terraces. To the front of the Las Dalias there is a large commercial centre with many bars, shops and restaurants.
Hotel Iberostar las dalias Location
Address C/ Gran Bretaña, 1
38660 Costa Adeje
500m to beach
800m to the resort centre
1km to Playa Troya beach
50m to San Eugenio Centre
See Location ofHotel Las Dalias on our Costa Adeje Hotels Map
Jardin Tropical hotel 4 Star Superia Near Puerto Colon harbour


Jardin Tropical Hotel

Jardin Tropical Hotel Description
The Jardin Tropical Hotel is a paradise hotel which overlooks the seafront and has beautiful views of the island of La Gomera. Its superb amenities include two swimming pools surrounded by tropical vegetation, a range of health and beauty treatments and five restaurants, including two a la carte and one snack bar. If that's not enough, there are excellent facilities nearby such as deep sea fishing in Puerto Colon, a 27 hole golf course and tennis.
Jardin Tropical Hotel Location
Address C/ Gran Bretaña, s/n
38660 Costa Adeje
Near Puerto Colon harbour
Located in the Puerto Colon harbour / Playa de Bobo area of Costa Adeje
See Location ofJardin Tropical Hotel on our Costa Adeje Hotels Map
Hesperia Park Troya hotel 4 Stars
Book a Package Holiday with
Hotel Hesperia Troya Description
The air conditioned Hesperia Troya Hotel is in a fabulous position, just acrooss the wide pedestian promenade from the beach, and only 150 metres away from the vibrant nightlife of Playa del las Americas.
Outdoor Swimming pool heated in winter, with sunloungers & parasols.
Kids pool & playground.
Sun terraces.
Restaurant & poolside snack bar.
Cocktail lounge.
Sauna, Solarium, Gym & Beauty shop/salon.
Soundproofed rooms with views.
Sports & leisure activities.
Hesperia Troya Hotel Location
Address Avda. Rafael Puig Lluvina, 2
38660 Costa Adeje.
Right on the seafront at Playa de Troya beach opposite the Costa Adeje Tourist Information Office.
150 metres from the nightlife at Veronicas centre & 300 metres from Starco's Centre.
See Location of Hesperia Troya on our Costa Adeje Hotels Map
Tropical Playa Aparthotel 3 Star
Secure Online Booking or More Information
Book a Package Holiday with Flight, just the Hotel, or More Information to Tenerife with
Thomson Holidays

Tropical Playa hotel Description
The Tropical Playa hotel was refurbished in 2002 & has a peaseful atmosphere
Swimming pool.
Free sunloungers, cushions & parasols.
Kids playground.
Tennis court & multiuse court.
Mini Supermarket.
Gym.
Cocktail bar, snack bar by the pool
Buffet Restaurant with either English or continental breakfasts & international & spanish cuisine other meals.
Tropical Playa hotel Location
Address Cl Bolivia S/N 38670 Costa Adeje.
Beach 400 metres.
Bus stop on the main road at the side of the hotel.
Entertainment, live band music & shows.
See Location of Tropical Playa hotel on our Costa Adeje Hotels Map
Ocean Ponderosa hotel 3 Star
More Information or Book Accomodation and/or Flight with 'On the Beach'
Ponderosa Hotel Description
The Ponderosa hotel is a 146 room, 12 floor hotel
Swimming pool
Kids pool & playground.
Rooms have either a se view or pool view and have safety deposit box, satelellite telly and a telephone.All inclusive option available
Ideal for Couples & Families
Restaurant serving breakfasts, lunches & dinners
Ponderosa hotel Location
Address Calle. Venezela, Costa Adeje
100 metres from Costa Adeje Bus Station
Golden Sand Beaches 400 metres
See Location of Ponderosa hotel on our Costa Adeje Hotels Map
Information Resorts of Costa Adeje, La Caleta and Fanabe