Page Menu
Tenerife information El Medano, Tenerife, Canary Islands
El Medano has long sandy beaches backed with an esplanade with shops etc. El Medano is a windy area making it are popular with windsurfers, who can also find windsurfing shops on the esplanade.
El Medano has a pleasant town square and stroll the narrow streets of this old fishing village where you can pop into one of the bars or pavement cafes.
There are 2 nature areas near to El Medano, around Montana Roja and Montana Pelada well worth the walk.
El Medano beaches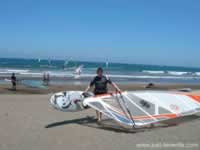 El Medano beach
The longest beach on Tenerife. It's 2 kilometres of natural fine golden sand stretches from the western side of El Medano to The Red Mountain, Montana Roja, a small vocanic cone with walking trails over it
Playa Machado belongs to surfers while the wild waves of Playa El Cabezo on the eastern headland keep the kite boarders flying.
Medano windsurfing
El Medano's famous, flat white sandy beach has played host to the world windsurfing championships and offers good facilities for sunbathing and other beach holiday activities. It is one of the largest beaches on Tenerife, approximatlt 2 kilometers long and fairly wide.
El Medano is in fact Tenerife's best surfing resort. It's popularity with winsurfers because it's notorisly windy and the beach is ideal for
Wind surfers
Kite surfing
Board surfing
Playa de la Jaquita
La Pelada beach
A small naturist beach, located away from habitation & road, 2 kilometres east of El Medano.
Mainly popular with locals
Playa de la Tejita Nude Beach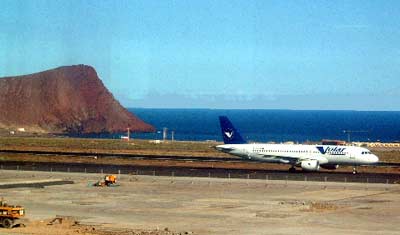 Photograph of Montana Roja and plane landing at Reina Sofia Airport. El Medano is at the far side of the mountain.
More more information see our Nudist beaches page
El Medano Restaurants
El medano has a fine selection of restaurants including specialist in local fresh fish, chinese, italian and french.
El Medano Villas
2 and 3 bedroom Villas to rent in El Medano from James Villas

Tenerife information El Medano Bus Services
Bus Routes
470 Playa de las Americas - El Medano - Granadilla. Hourly service.
Beware of some buses only going as far as Golf del Sur as next
470 Playa de las Americas - Golf del Sur
116 El Medano - Granadilla - Santa Cruz. 2 Hourly service.
More information on bus services and bus routes
El Medano Kitesurfing, Surfing, Boardsurfing
Links

http://www.kitecenter-medano.com/
http://www.surfcenter.el-medano.com/
Surf Center Playa Sur C/ La Gaviota s/n El Médano, 38612