Page Menu
Los Gigantes Apartments, Tenerife, Spain
Please note that the beach at Los Gigantes is sometimes closed
Los Gigantes Hotel
Description Hotel Los Gigantes
The Hotel Los Gigantes Hotel beautiful location and lovely rooms have guests coming back year after year. Staff keep the building and grounds immaculate. As for the setting, the photographs say it all.
Fabulous views from the restaurant
2 Swimming pools, sun terraces & sunloungers
Entertainment, cabaret, live music, music in bar.
Spa & gym
Tennis, squash, table tennis, pool, snooker
There is a music bar next to the hotel Los Gigantes, on the mountain view side which is open until midnight
Hotel Los Gigantes Location
In a dramatic cliff top location on a headland with stunning dramatic views
800 metres to the cove beach at Puerto Santiago
See Location of Hotel Los Gigantes on our Los Gigantes Hotel & Apartment Map
Book Hotel Los Gigantes hotel
Book a Package Holiday with Flight, just the Hotel, or More Information with Thomson

No under 16s
Poblado Marinero Apartments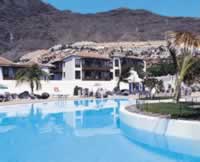 Poblad Marinero Apartments have Free use of Lido across road.
Some of the apartments in the background
Poblado Marinero Apartments Description
The Poblado Marinero Apartments are nestled at the foot of dramatic cliffs of Los Gigantes, overlooking the small marina, these attractive apartments are in one of the best locations in Los Gigantes. Comfortable and welcoming, these apartments are popular with both families and couples and are only a short walk from the beach and resort centre.
The photograph of the pool is the Los Gigantes Lido just across the road from the apartment complex which can be seen just to the rear of the pool in the photograph
Lounge with pool table, games, library & internet access
Free passes to the Los Giganres Lido just over the road with sunloungers & parosols for hire
Breakfast is served at the Lido pool bar
Apartments have:

Bathroom with shower
Kitchen with Oven, fridge
Safe
Terrace or Balcony
Poblado Marinero Apartments Location
50m to Los Gigantes Beach
Next to the marina
100m to the resort centre (slight incline)
50m to the nearest shops, bars and restaurants
The surrounding area is hilly and may not be suitable for the less mobile
Poblado Marinero, s/n (Apdo 24), 38683. Acantilado de los Gigantes
Book Poblado Marinero Apartments
Book Accomodation Only or More Information
See Location of Poblado Marinero Apartments on our Los Gigantes Hotel & Apartment Map
El Sombrero Apartments
El Sombrero Apartments Description
El Sombrero Apartments Location
Town centrs 200 metres
Marina & Beach 700 metres
Los Gigantes main Bus Stop just outside the apartments
Book El Sombrero Apartments
Sorry no bookintg details available
See Location of El Sombrero Apartments on our Los Gigantes Hotel & Apartment Map 
Colonial Parque Apartments 2 Keys
Colonial Parque Apartments Description
The Colonial Parque Apartments are built against the hillside and are 7 story high with each story stepped backwards giving fabulous views of Los Gigantes, the sea and the cliffs.
Swimming pool
The elevated location ensures absolutly fabulous views
Cafe / bar
Colonial Parque Apartments Video
Colonial Parque Apartments Location
Located above the resort of Los Gigantes
Bus Stop (Cruz Gigante) just outside the apartments
Book Colonial Parque Apartments
Book Accomodation Only or More Information
Diamond Apartments 1 Key
Diamond Apartments Description
The Diamond Apartments is a small complex of 25 apartments in 2 wings & 3 floorsin an area with steep hills
Swimming Pool
Sun Terrace with sun beds
1, 2 & 3 bedroom apartments.
Lounge has a sofa bed, pay to view satelite television
Diamond Apartments Location
In a high elevated location overlooking Los Gigantes
Book Diamond Apartments
More Information or Book Accomodation and/or Flight with 'On the Beach'
See Location of Diamond Apartments on Los Gigantes Hotel & Apartment Map