Page Menu
Fanabe & Torviscas Apartments to rent
See alsoFanabeand Torviscas Information and Fanabe Hotels and Torviscas Hotels
This more up market area is more suited to people not wanting intense night life but a more refined holiday enjoying the good location, fine restaurants and good facilities
Sol Sun Beach Apartments 3 Keys
160 studios and one and two bedroom apartments. All equipped with bathroom, terrace, refrigerator and kitchenette. The hotel is 30 km from the Teide Ecological Park and the Golf Sur course and 1 hour by ferry from the La Gomera Island. Gift shop. Supermarket.
Sol Sun Beach Apartments Location
C/ Londres, 3 Playa de Fanabe Adeje 38660
Alongside the sea, on Fanabe beach 150 mts. and from the commercial centre. It is only 15 km from Reina Sofía airport and 2 km from Playa de las Americas beach.
At the Western edge of the busy and cosmopolitan town of Playa de Las Americas lies the small exclusive resort of Costa Adeje. Set slightly apart from the general hustle and bustle with a small selection of bars and restaurants. Adeje with its elevated position commands impressive views of the island of Gomera, Mount Teide and the beautiful sandy beach of Fanabe and Duque.
Sol Sun Beach


Sol Sun Beach Apartments
More Information or Book with 'On the Beach'
Lagos de Fanabe Apartments
We offer you all our hospitality and assistance in order to make your stay with us as pleasant as possible. Our main objective is to ensure that you enjoy your vacation in a peaceful, relaxing atmosphere.
This extraordinary complex is part of the 'Playa Fanabe S.A. Residential Estate located in the South of Tenerife. The complex consists of 180 units where you will find one an two bedroom apartments and beautiful gardens surrounding two swimming pools built in the form of artificial lakes, and after which our original complex has been named. In addition you will be able to enjoy the privilege of being served a pleasant supper in our restaurant 'El Jardín'.
Iin addition to a pool bar, sun bathing area, TV lounge and a small games room. The complex is 50 mts from the beach and has a service that offers sun beds, sunshades and water sports activities. All customers staying in our apartments are entitled to use these services with a discount. The complex offers you the chance to relax and enjoy our wonderful perennial spring climate.
Lagos de Fanabe Apartments Location
Apartamentos Lagos de Fanabe
Urb. Playa Fanabe, Calle Londres No 7 Costa Adeje 38670
The complex is 50 mts from the beach
More Information or Book with 'On the Beach'
Los Brezos Apartments
The Los Brezos Apartment Complex suits mainly young couples or singles looking for a central location and friendly service. For families, the nearby Aqualand Waterpark will provide lots of fun for children. Due to a number of steps, these apartments are not suitable for the less mobile.
This clean and modern complex is situated just a short walk away from a beautiful sandy beach and all the amenities you could hope for. If you're seeking a fun holiday in a busy resort, these attractive apartments will appeal. • Regular local bus service to nearby resorts and Santa Cruz • Noise may be heard from main road
Nearby waterpark with heated pools and bungy rides
Los Brezos Apartments Location
• 500m to beautiful sandy Playa de Fanabe beach
• 3km to Las Americas
• 200m to supermarket, local cafes and bars
• 500m to pubs and restaurants
• 1.5km to disco and nightclub
• Near to the Arbinque Bus Stop


Los Brezos Apartments
Orlando Club Resort Apartments 2 Keys Playa de Fanabe
Orlando Club Description
Units come equipped with satellite TV, a safe (at a charge), microwave and hairdryer. Guestrooms also feature terraces. The Orlando Club Resort boasts a wide selection of entertainment activities, including three swimming pools (including one children's pool), a tennis court, football pitch and snack bar
Orlando Club Location
Apartments Orlando Club Resort, Cl Antonio Navarro
The Orlando Club Resort is situated close to the sandy beach and is within easy reach of the Aquapark. There are many bars and restaurants close by and the new marina can be easily reached on foot.
Playa de Fanabe beach 500 metres
Aquapark 400 metres as the crow flies, possably 3 4 times that distance by road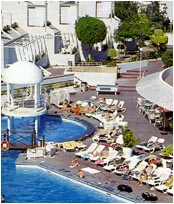 Orlando Club Resort Apartments
Neptuno Apartments 3 Keys Torviscas Heights (Torviscas Alto)
Description
The Neptuno Apartments are situated in the upper of Playa de Las Americas, Costa Adeje.
Its quiet and peaceful atmosphere provides a relaxing holiday for families. The complex offers one bedroom apartments which include a lounge, telephone, satellite TV, safety deposit box, sofa bed, kitchen, up to four people and most of them with pool or sea view.
The complex has 3 swimming pools, 24 hour reception, a restaurant, a pool bar, a gym, a laundry, a children's play area and a badminton court, excursions and rent a car service. Free bus to the centre and beaches.
Location
Neptuno Apartments, Calle Cataluna 3, Torviscas Alto, Costa Adeje, 38670
The Neptuno Apartments are 15 minutes walking from Torviscas and Fanabe Beach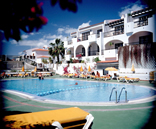 Neptuno Apartments Pool
More Information or Book with 'On the Beach'
--
Paradise Court Apartments 3 Keys Torviscas Heights (Torviscas Alto)
Description
The Paradise Court apartments are situated in San Eugenio Alto, Costa Adeje, inland from the Aqualand ,about 15 minutes from the exciting Playa de las Americas with supermarkets, restaurants, bars, shops, beaches and entertainment. The Complex has 60 units including spacious studios, 1 bedroom and 2 bedroom units sleeping 2 adults for the studios, 2 adults and 2 children for the 1 bedroom apartments, and up to 6 people (including minimum 2 children) for the 2 bedroom apartments.
The apartments have sea view, terrace, ceiling fan, satellite TV, fully equipped kitchen, microwave, safe deposit boxe, telephone and hair dryer.
There is a swimming pool, a pool terrace perfect for sunbathing and an on site pool bar where you can enjoy a variety of snacks.
The maid and maintenance service insures an excellent carefree holiday. Excursions, car hire, a free beach bus service, postcards and more are available. The sister resort Regency Club invites all the guests for live entertainment nightly, including Magic Shows, Flamenco, Canarian Music, Karaoke, Barbecue and much more.
Location
Paradise Court, Cl. Irlanda 5, Torvoscas Alto, San Eugenio, Costa Adeje, 38660
A free bus service and on site laundry are also available.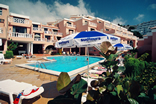 Paradise Court Apartments
More Information or Book with 'On the Beach'
Sunwing Resort Apartments Fanabe
The Sunwing Resort Apartments are neatly located only 300 metres from Fanabe beach and near to shops, bars and restaurants. The Sunwing Apartments have a good reputation for cleanliness and friendly English speaking staff
The Sunwing has 3 free form swimming pools. There are also 2 restaurants, snack bar and games room. Having a 24 hour reception is also useful for guests.
The Sunwing is very family orientated with a childrens section paddling / swimming pool, kids playground, childrens meals, cots & highchairs.
Other facilities include: Air Conditioning from 4pm to 9am, Daytime & Evening Entertainment, Money Exchange and Safety Deposit Box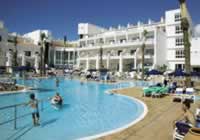 Sunwing Resort Apartments and large freeform swimming pools
Parque Del Sol
Book a Package Holiday with Flight, just the Hotel, or More Information to Tenerife with
Thomson Holidays to Parque Del Sol

Bus Stops 150 metres from Parque Del Sol
Playa Olid Suites & Apartments
Bus Stops are located just outside the Playa Olid Suites & Apartments
More Information or Book a Package Holiday with Flight, just the Hotel, or More Information to Tenerife with
Thomson Holidays to Playa Olid