Page Menu
Bahia Princess hotel Fanabe / Torviscas, Costa Adeje
Photograph Bahia Princess hotel
This hotel is owned by the well respected Princess Hotel Group and it has ensured a wealth of facilities to offer its guests.
A wide ranging choice of tempting cuisine, a carefree atmosphere based close to the beach, and a lively entertainment programme.the staff at the Bahia Princess know what good holidays are made of!
The Bahia Princess is best suited to couples looking for a break in the Tenerife sunshine, with plenty of on site facilities and the resort close by.
The swimming pool area follows the group's usual high standards, with an imaginatively designed pool and inviting terraces to lounge on.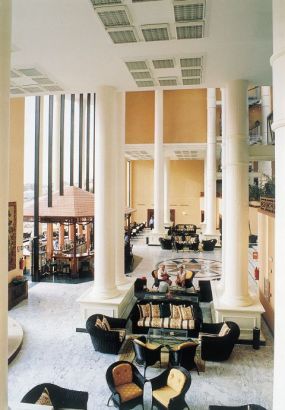 Photograph Bahia Princess hotel
Location
The Bahia Princess is 250m from the beaches of Fanabe and Torviscas.
100m to the closest shops
The resort of Play de las Americas is about three km away.
15 20 min's. WALK TO Aqualand Waterpark
Nearest bus stops: 2 3 min's. walk Esmeraldo & Playa Olid stops.
More Bus information
Facilities
Some facilities may incur extra local charges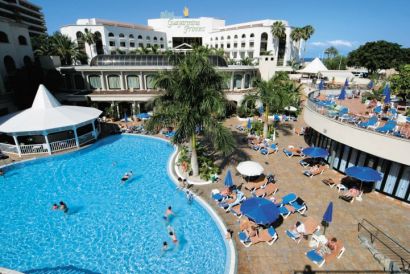 Photograph Bahia Princess hotel pool
with the Guayarmina Princess in the background
Swimming pools
With three swimming pools on different levels, all amply served by a large supply of sunbeds and a terrace, you will wonder where to select for that first stretch out in the sun. One of the pools is specially acclimatised for winter, so there is no reason not to enjoy some holiday swimming no matter what the season. There's also a poolside bar.
Family facilities
Children have their pool
Hotel run children's club, for 4 12 year olds, will ensure plenty of play options to keep them entertained.
The hotel also has highchairs and free cots.
Entertainment
Entertainment Professional shows five times a week, live music twice a week and recorded music for the remaining five
This hotel makes a major commitment to giving you a varied evening of leisure pleasure.
Sports and Relaxation
The hotel entertainment team organise daily activities. Those seeking something more familiar can enjoy the free table tennis and billiards and table football are also available at a charge.
Guests can also enjoy the facilities at the nearby Guayarmina Princess, which include a free sauna as well as squash and tennis (extra charge).
Restaurants Meals and Cuisine
Rest assured the buffet breakfasts and dinners served in the hotel restaurant (with a non smoking section) will be food for thought
With show cooking adding that extra special ingredient to the menu.
At dinner there are two main courses, with a choice of meat and fish that can be served at your table on request.
Take a leisurely lunch on the terrace and enjoy waiter service, or those on full board can dine on the special lunchtime a la carte fare.
There is an a la carte evening meal in the main restaurant and a special Canarian or Mexican dinner once a week.
Bars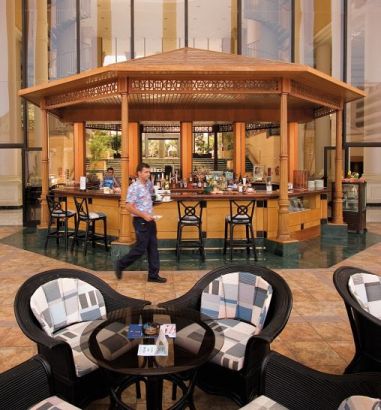 Photograph Bahia Princess hotel bar
Guest rooms, Room facilities
2 or 3 beds (3rd bed is a camp or sofa bed)
Satellite TV with music channels
Telephone . Hairdryer
Mini bar or fridge available on request (payable locally)
Safety deposit box for hire
Hotel bedrooms 279 in 2 buildings Lifts 5
Tenerife Hotels, Aparthotels & Tenerife Self Catering Apartments to rent.
Costa Adeje Accommodation
North Coast Accommodation
South East Coast Accommodation
South West Coast Arona Accommodation
South West Coast Adeje Accommodation