Page Menu
Night clubs in Playa de las Americas
See Also: Playa de las Americas Bars
Playa de las Americas Clubs Introduction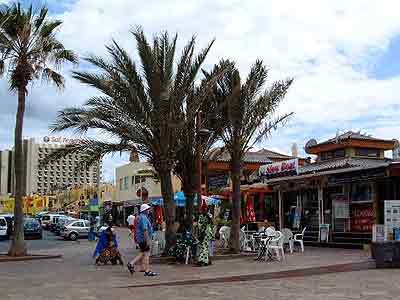 Veronicas
Playa de las Americas Bars Clubs and restaurants at Veronicas
The bars and nightlife in Playa de las Americas are mainly centred around Starco's, Veronicas,The Patch and , all centrally located in Playa de las Americas. Veronicas is on the sea front with Starco's about 300 metres inland. The Patch is about 400 metres towards Los Cristianos, again about 300 metres inland.
Bars and clubs usually stay open until 3 5 am. You will discover that certain bars are popular earlier on in the evening and usually close before the "night owl" bars and clubs. An example of this is Starco's which has more bars than Veronicas is busier earlier, starting around 10pm. The more club oriented Veronicas becomes busier towards 3pm.
The Patch tends to cater for a slightly older crowd.
As can be expected bar prices tend to be higher in these popular areas. Often discounts on first drinks are offered by bar touts. You may be able to lower the cost of the evening by moving from bar to bar.
Out of season many bars are fairly empty earlier on in the evening and consequently lack that essential atmosphere.
An early evening short sleep before you go out may re tune you to the much later nightlife.
Bar Tours
See our Playa de las Americas Bar Tours article on Playa de las Americas Bar page
Starco's Clubs
Starco's is a commercial centre and very very popular area for nightlife with more bars than Veronicas popular earlier in the night, people drift to Veronicas later in the night for the clubs.
Veronicas Clubs Also known as Veronicas Strip
Veronicas is a 2 story commercial centre and very very popular area for nightlife with more clubs than Starco's therefore more popular later in the night.
The location of Veronicas is listed on our Playa de las Americas Bars page
List of Playa de las Americas Clubs
Also see Playa de las Americas Bars
Babewatch Lap Dancing Club
Location of Babewatch Lap Dancing Club
Starcos top right corner near Met
Bobby's Club Veronicas 4, Playa de las Americas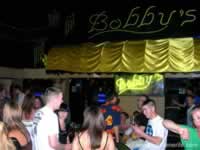 Bobby's Club
The entrance to Bobby's Club & Busby's Club is via a flight of stairs to an open air terrace shared by both clubs which are located either of the terrace. At the top of the stairs turn right for Bobby's Club or left for Bobby's Club.
Bunnies
Busby's Club Busby's Club Veronicas 4, Playa de las Americas
Possibly CLOSED
Join in the fabulous fun on the Foam Party nights, usually Mondays & Thursdays
Bunnies VIP Club
Club Las Vegas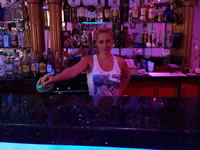 Club Las Vegas
Lap Dancing
Very modern elegant decor and bar
Club Las Vegas Video
Dallas Bohemia Club
Crows Nest Club Veronicas, Playa de las Americas
A great bar with a large terrace, now run by Andy who used to be a DJ there. Since Andy took over the place is on a recover upturn after it's downturn in popularity a short while back.
The Crows nest bar / club is located on the first floor but the stairs to both the Crows Nest and Bonkers Bar are at the far end of the building so it's not obvious how to get there.
Globo Rojo Nightclub
Disco
Table Dance
Escorts
Qualified and experienced female models and dancers
Joyce Bar / Club
Located in 2 buildings with a terrace infront of them & a narrow terrace between them
Cocktail Bar
Jumpin Jacks Club Veronicas 1, Playa de las Americas
Popular later on in the night. Intimate environment
Liquid Club
The Liquid Club is new and ultra modern with a great music and lighting systems
The Liquid Club is on 2 floors with a panoramic lift and terraces with sea views
Open 7pm until closing requires you to be smartly dressed
The Liquid Club is in the Conquistador Shopping centre on the sea front promenade side of the Conquistador H10 hotel
Magic Lounge Club
Video Magic Lounge Club
Mare Nostrum Resort, Avda. Las Américas
Mystique Swingers Club
For liberal minded swingers couples & singles
Dutch, English, Spanish and German Spoken
Dutch Owners
Location of Mystique Swingers Club
C.C Carlota N 9, Calle Mexico 8 38660, Playa de Las Americás
Papagayo Beach Club
Video Night Party Papagayo Beach Club
A very large and higher class venue with bars, restaurant, bed loungers designed for comfort, leisure, eleganc, culture & escapism
Restaurant
From beef burgers to the finest seafood or the best meat dishes
Bars
5 Bars over 2 floors
Events / Shows
Regular Cabaret, shows, DJ's & more.
Piramide de Arona Theatre Show

Piramide de Arona
Video of excerpts from Malizia at Piramide de Arona
Longer Video of Evolucion a previous show
Spanish Dance & Flamecco Show at it's best
A touch of Ballet
Some typical Riverdance lineups with a Spanish Main Flavour
Amazing Costumes
Spectacular Lighting
Rumours Club - Starco's , Playa de las Americas
Previously Down Under bar
Party bar
Smaller, but busy fun bar with good music
Location of Rumours Club: Starco's located underneath Linekers.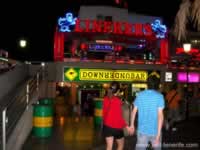 Downunder Bar Now Rumours Club
Sound of Cream Club
Location of Sound of Cream Club
Veronicas 1
Sugareef Terrace & Club
Previously China White
Video Sugareef Tenerife
Rags Club
Rags is a smaller club with a great atmosphere. The excellent DJ believe in playing music that the customers want to hear, and not as is often is the case the music the DJ likes to hear.
Rags have an outside terrace for those who prefer the fresh air.
Defiantly a venue to try out
Rags opens about 8 pm and continues right through the night until about 5 or 6 the following morning
Some bar tours use this as the final venue.
Tibu Discoteca
Tibu as a club has CLOSED but various events are held at the venue
Tramps Club Starco's, Playa de las Americas
Video Tramps Nightclub
The largest nightclub in Tenerife. It's great for dancing to fab music. Very friendly and has a patio bar and outdoor seating. A great night is almost guaranteed. stays open very late to 8am so good for the very late night owls amongst you.
Tramps has 5 main areas which open at different times:
20 Degrees opens for party time at 9 pm
Blue Room opens at 11 pm this is Tramps latest expansion
Main area opens midnight
VIP area to the rear of the Main room
Open air terrace at the main entrance
It has the best DJs in Tenerife See World Famous DJs at Tramps
World Famous DJs at Tramps
World Famous DJs such as Judge Jules, Vernon Kay, Danny Howard, Westwood, The Val-leys, Dave Pearce, Sander Van Doorn, Eddie Halliwell, Marco V, Lisa Lashes, Twice as Nice, Clubland, Hed Kandi, Pukka Up, Gatecrasher and Godskitchen, have occasionally played at Tramps Club
Mike Lewis aka DJ Kuta
Gay Clubs and Bars
Gay Clubs and Bars has been moved to a new page click Playa de las Americas gay Clubs and Bars
Playa de las Americas area menu